Exhibits at Hamersly Library
Beginning in October, 2018 Hamersly Library Exhibits now coordinates all scheduling with the Cannon Gallery of Art. For information regarding future schedules and open dates, please email the Cannon Gallery Director, Paula Booth, via email or at 503-838-8607
For general inquires regarding exhibit space in the Hamersly Library, please contact the scheduling building manager, Chris Mansayon, via email or at 503-838-8441.
Exhibits Mission
To provide a venue for presenting visual and textual information and performances which expose students and staff to topics and experiences that augment the classroom curriculum.
The Library provides several spaces within the Hamersly Library for the purpose of gallery exhibits and performances, including, in the past:
WOU Art Faculty (current and former) shows
WOU Art Students Senior exhibits
Memorabilia from the WOU Archives
Traveling exhibits
Works from local and regional artists
Performances by WOU dance and music students and faculty
These exhibit spaces provide WOU faculty and students an avenue to showcase their skills and talents. They provide an extension of the classroom for WOU faculty; the library has hosted several exhibits curated by faculty and students on topics/issues that they have been studying. Finally, the exhibits program provides a way for the library to "extend" its resources – to find cultural and artistic information from other individuals or areas outside the university and to bring it to the campus.
2019-20 Exhibits Schedule
2nd & 3rd Floor Galleries:
Alfred Maurice: Prints from 1950 – 2000
March 1 – current
This exhibit features a selection of prints created over five decades by Alfred Maurice. Donated to the WOU Foundation, sale of the prints benefit the Maurice Prize at WOU.
Alfred Maurice: Drawings from 1940 – 2000
March 1 – current
This exhibit features a selection of drawings created over six decades by Alfred Maurice. Donated to the WOU Foundation, sale of the drawings benefit the Maurice Prize at WOU.
br> br>
Previous:
2nd Floor: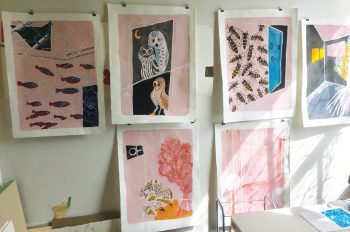 Bonnie Hull and Elizabeth Bauman: Pink Gesso/Black Gesso
November 13 – February 14
This body of abstract paintings on paper is the result of two collaborations. In each series, the artists agreed to use the same paper size and the same color ground (the gesso surface on which the painting is made). The result is a colorful and vibrant series, sure to bring joy to the dark days of November!
3rd Floor: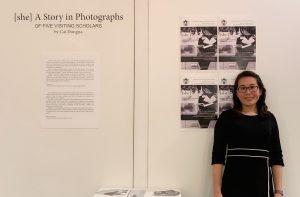 [she] A Story in Photographs of Five Visiting Scholars
November 20, 2019 – January 22, 2020
This exhibit portrays the lives of five female visiting scholars from China over the course of one year. The narrative is divided into five representative stages — arriving registering, studying, enjoying, and leaving. The subtle, sincere images of she open a direct window into the lived experiences of individual women whose time at WOU is characterized by a duality of the remarkable and the mundane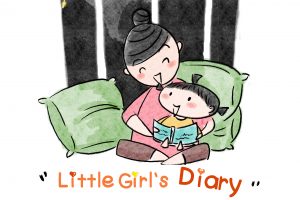 Su Fei: Little Girl's Diary
January 22 – February 21
Su Fei is a visiting scholar from China. She teaches animation at Guangxi Arts Institute. Her digitally-illustrated Little Girl's Diary weaves the story of a multigenerational family navigating life together.