Research Help
Need Immediate Help?  
Information Desk student staff are ready to help you during all library hours.
Chat online:

Phone: 503-838-8418
Text Message: 503-383-9681 (WOU1)
Email: libweb@wou.edu
Depending on the complexity of your question, they may forward it to librarians or staff.
Drop-In Library Research Clinics
The library also offers a "drop-in" service for students who need more immediate assistance getting started with their research assignments. Just come up to the front desk in the library lobby and a librarian will be happy to help! If those times don't work for your schedule, use the form on the left and a librarian will get in touch with you to schedule a time that works for you.
Winter Term Hours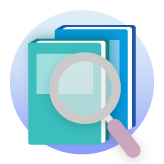 Monday – Thursday
12pm – 5pm