Research Help
Reference librarians assist and instruct people in the most efficient ways to identify and access any needed information. Librarians have Masters degrees in Library and Information Science, as well as additional graduate degrees.
At Western Oregon University, our Reference Desk is staffed both by degreed librarians and by knowledgeable and customer-oriented library technicians. Our primary job is to help you with any questions you have, and you have multiple ways of contacting us, below.
In Person
Of course you can always visit us at the Reference Desk during library hours.
Instant Messaging
Use the Ask a Librarian chat window in the left-side links on every library page. You don't need your own screen name. This is a private conversation with the WOU librarian on duty.
When WOU librarians are offline, the left-side link changes to
Answerland, where our partner librarians are available 24 hours a day, 7 days a week.
Text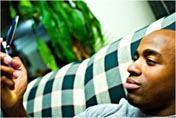 Txt yr ? to 503-383-WOU1 (9681)
Reference Consultation Appointment
If you need more in-depth help than can be given through a general reference interaction, make an appointment with one of our subject librarians.
Our staff directory lists their subject areas.