Sometimes you find the right book next to the one you went looking for. Or, maybe you just want to browse the books and videos in our Recreational Collection. Since the building is closed this is harder to do, but, we have a technical solution for that. Try out Virtual Browse!
You first need a good starting point. Search in Primo for any topic, book or movie title, or author of interest, and if necessary, limit your results to the desired physical location, such as Video, Recreational, Juvenile Non-Fiction, etc. Then click on whatever title you want to use as your starting point.
For example, perhaps you already borrowed Fly Girls from the Recreation collection and liked it; now you can find its Primo record to serve as your browse starting point.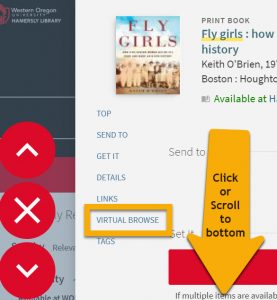 On the book's detail page, scroll to the bottom (or click the Virtual Browse link on the left side). Here is the Virtual Browse shelf!  Move to the right or left from your starting point,  and click on whatever tile looks interesting. You can then request the item for pickup or mail delivery.

Virtual Browse is actually a call number browse, irrespective of the physical location where items are shelved. The "shelf" reads multiple locations that share a call number schema.
Here are a few starting points that could be useful, roughly in the middle of each schema.