Winter 2020 Exhibits
We have several exciting exhibits lined up for the library exhibit spaces this term. Read more details in our Exhibits page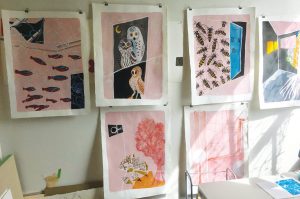 Bonnie Hull and Elizabeth Bauman: Pink Gesso/Black Gesso
November 13 – February 14
This body of abstract paintings on paper is the result of two collaborations. In each series, the artists agreed to use the same paper size and the same color ground (the gesso surface on which the painting is made). The result is a colorful and vibrant series, sure to bring joy to the dark days of November!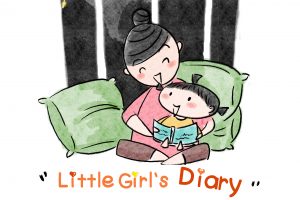 Su Fei: Little Girl's Diary
January 22 – February 21
Su Fei is a visiting scholar from China. She teaches animation at Guangxi Arts Institute. Her digitally-illustrated Little Girl's Diary weaves the story of a multi-generational family navigating life together.
Alfred Maurice: An Artful Life: Celebrating the Life of Creator, Teacher, and Collector Alfred Maurice
Coming February 26
This exhibit will be part of a larger event put on by the WOU Foundation to benefit the Maurice Prize